A rich collection of contemporary Art is a highlight of this Museum as well. Late Dr. M.S. Randhawa initiated the collection after a few notable examples of art of this category were received from the Lahore Museum . Thus the Museum possesses some rare art pieces not found anywhere in the Indian collections of Indian contemporary Art. Late Dr. Randhawa collected even a few representative paintings done by the Russian Painter Nicholas Roerich who had settled in India and made some beautiful paintings of the Himalayas . Of the other major painters whose works adorn the collection of this Museum are (in alphabetical order): A Ramachandran, Abanindranath Tagore, Akbar Padamsee, Amrita Sher Gil, Anis Farooqui, Anjolie Ela Menon, Arpana Caur, Arpita Singh, Arup Das, Ashiwani Kumar Verma, Avinash Chandra, B. Prabha, B.C. Sanyal, Baldev Raj Rattan, Bhavani Katoch, Bhupen Khakhar, Bimal Dasgupta, Biren De, Bireshwar Sen, Brahm Prakash, Damyanti Chowla, Dinesh Gaur, F.N. Souza, G.R. Santosh, Gaganendranath Tagore, Ganesh Pyne, Gulam Mohammad Sheikh, J. Sultan Ali, J. Swaminathan, Jamini Roy, Jatin Das, Jatin Gandhi, Jaya Appasami, Jogen Chowdhury, K.K. Hebbar, K.S. Kulkarni, Kamudi Prajapati, Krishen Khanna, Laxman Pai, M.F. Husain, Manjit Bawa, Manishi De, Manu Parekh, Nandalal Bose, Nicholas Roerich, Nikhal Biswas, Paritosh Sen, R.N. Pasricha, Rabindranath Tagore, Raj Jain, Rakesh Bani, Roop Chand, S.G. Thakar Singh, Sailoz Mokherjea, Sandeep Singh, Sarada Ukil, Satish Gujral, Sakti Burman, Shanti Dave, Sobha Singh, Sohan Qadri, Sunirmal Chatterjee, Surya Prakash, Sushil Sarkar, Tyeb Mehta, Bikas Bhattacharjee, Vivan Sundaram and many others. These works are in the forms of oil paintings, water colour paintings, drawings both black and white and in colour.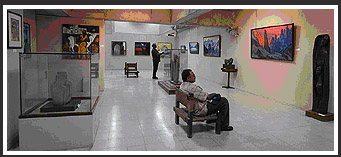 The richness of the graphics section should also deserve mention. The works of this category in this museum are from the following major artists (alphabetically arranged) :Amitabha Banerjee, Anupam Sud, Dhruv Mistri, Gogi Sarojpal, Jagmohan Chopra, Jai Zharotia, Kavita Nayar, Krishna Reddy, Lalu Prasad Shaw, Lalitha Lazmi, Sanat Kar, Tejinder Kanda and others.
The sculptural collection of the contemporary art in the Museum is also quite rich. The major sculptors whose works are preserved here are (in alphabetical order): Amarnath Sehgal, Avtar Singh Dhanjal, B.C. Sanyal, B.M. Chug, Balbir Singh Katt, Chintamoni Kar, Dhanraj Bhagat, H.G. Jhamb, J.L. Ahuja, M. Dharmani, Pradosh Dasgupta, Ram Kinkar, S.L. Prasher, Sankho Chaudhuri, Shiv Singh. Almost all major media are represented through these works.
Three special sections have recently been added for displaying some representative paintings not only of Nicholas Roerich but also of two celebrated Punjabi painters namely, S.Sobha Singh and S. S.G. Thakar Singh.
The entire contemporary art in this Museum has been built up keeping an eye on the presentation of all major artists of All India standing and also all upcoming artists with potential from this region. Thus this collection is a mirror reflecting the All India picture of creativity in contemporary art, as also of the nature of creative identity that is emerging from the works of the artists of this region.
CONTEMPORARY INDIAN PAINTING

Thirty years ago there were two main styles of painting in India: (1) the academic-realist manner taught in the Government art schools, and (2) the "Bengali Renaissance" movement, started by Abanindranath Tagore, a nationalist movement in which Mughal miniature painting style, combined with Far Eastern water-colour techniques tried to capture some "oriental" spirit by turning to illustration work.
It was then Jamini Roy who bought into Indian painting an element of vigour, by studying folk art forms; and Amrita Sher-Gil who captured the modern western spirit of rebellion against academicism, by the use of free composition, simplification, and a faith in the artist's instinctual revolt against mere naturalism. Her discovery of this liberation from "accepted norms" or "styles" led to a great movement among Indian artists to free themselves from all shackles of "models" and of representational painting. Most of them found inspiration in the newly won freedom of western artists, and by 1950 this process of Indian liberation resulted in a bold discarding of "models". Many experimented with original styles of their own.
Some took to folk styles with their stylizations and primitive vigour; others followed the free use of colours and forms of expressionist painters, and some discarded all representation in order to compose abstract forms - as a musician composes music.
Present-day dominating styles are: (1) pure abstract creation of forms according to the instinct of an artist; (2) expressionist forms in which objective reality (human figures etc.) are not discarded, but boldly re-shaped to conform with the vision of the individual painter; (3) a use of symbols, such as Tantric art employs, to evoke sub-conscious associations; (4) surrealism, in which elements of realism are grouped in unexpected combinations, as they would in dreams; (5) paintings in which great importance is attached to "texture" i.e. the surface, often enriched with "collage" and the pasting or insertion of various objects or fragments; and (6) a "neo-primitive" style in which the artist attempts to recapture the inspiration of primitive painters, and the simplicity found in primitive art.
But whichever the style, all painters today insist that a painting is a creative work, the result of an artist's vision; and is not at all intended to be a copy or an accurate reproduction of the outside, visible world.