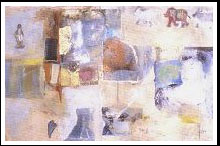 Wendell Rodricks'. latest venture is Fado ('song' in Portuguese), a Goan art show he has curated for the Jamaat art gallery in Mumbai. He has brought together Goan artists in the first of its kind exhibition. The idea is to introduce painters and sculptors from Goa to the art collectors of the city.
"Being Goan myself, all my work -- from dressing salads to dressing women, and now, moving from cloth to canvas -- is coloured by a Goan sensitivity," points out Rodricks.
The exhibition has a series of artwork by 15 artists --- ranging from watercolours, pencil sketches and murals, to terracotta and steel sculptures. There is Hanuman Kambli's 'Is past is future?' an oil on canvas, which has one large and three small canvasses, arranged in the form of a cross. On a closer look you realise that it is actually a painting of Ravan with his several heads.
Or take a look at Rajshree Thakker's 'Zhazhov's Abstract Stone Bridge' (left), a mixed media, which portrays the journey of Siddharta in search of God and the various levels of existence that he goes through. N Kanhaiya's oil on canvas has a portrait of a man without an arm in a red tie, a painting he titles 'Man with red tie' (below). "It is a depiction of the modern man who lives only for his work. There is a certain emptiness to his existence," explains Kanhaiya.
Interestingly, there is very little influence of Goan lifestyle or landscape in the art. "Goan artists are as contemporary as artists you will find anywhere, given the deep Catholic conservatism running through the culture. Goa has been, from historic times, touched, nudged and caressed by visitors from all over the world, bringing new and different attitudes, styles, and customers to the culture," wonders Rodricks.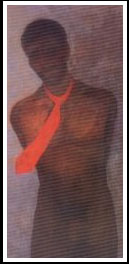 One of the reasons for this individualism could be that there is no formal school of Goan art, like there is of Baroda or West Bengal. "There is a lot of individualism in every artist's work. The only common point of reference is that they all live in Goa," claims Thakker.
A brush with aware, critical and sometimes appreciative art connoisseurs of Mumbai has left some of the artists, who are down in Mumbai for the exhibition, a little confused and amazed. "We are not used to this… the noise, the people, the vibrations. We work in total silence back home in Goa and sell through a few galleries to a clientele that is mainly foreigners," says painter Francis de Souza, looking around at the crowd around him. "Jamaat has done a very good job marketing the show. What we need is marketing."
Most Goan artists, like N Kanhaiya, have never exhibited outside Goa. Except maybe Subodh Kanth, not many art lovers across India have heard about their work. Even within Goa itself, there is very little awareness of art. It is only recently that a few art galleries have sprung up. "I sold my first painting, which was a huge canvas, for Rs 1000. Things sure have changed since then," laughs Thakker.
With more and more foreign, as well as domestic Indian tourists, picking up their art at quite a substantial price (ranging from Rs 2000 to Rs 50,000), the Goan art world is undergoing quite a renaissance. In 1991, a few artists came together to form the Goan Art Forum. It has organised fourteen solo and group exhibitions in Goa, Kerala and Bombay. Its future plans include art exhibitions in other parts of India and abroad.